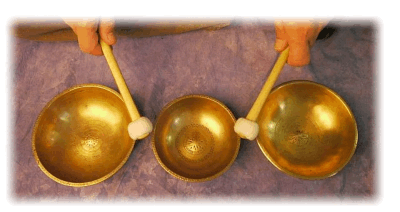 About Tibetan Singing Bowls & Grading System

This page was last updated on: 11/4/2021
Tibetan Singing bowl definitions and description

Tibetan singing bowls are created in a variety of sizes and differing visual shapes. Although the origins of the bowls are unknown it is surmised that they have been in use in the Himalayan region for over 3000 years and made their way to Tibet about 1000 years ago with the advent of Buddhism to that area of the world. It is thought that the ancient shamans known as the Bon were the primary users of these instruments in Tibet.

It can sometimes be difficult for the beginner and even at times for the more experienced player to clearly ascertain what would be best to acquire out of the multitude of bowls in circulation. It is certainly easier to come to a good decision if you have personally listened to many bowls as a reference point. The issue of how to choose the best bowl is solved by the careful playing of the bowls either in person or by having a trusted source with whom you can discuss your needs and who can locate the best for your purposes.

Since it is debatable if anyone now alive can judge with much accuracy the age of a particular bowl, we choose to just say to our customers that we in our best estimation, think this bowl is old, or very old, or newer.

For us to say a bowl is from the 15th or 17th century would really be skating on thin ice as it has been our experience that no one here or in the Himalayan regions is possessed of this knowledge no matter what they may say. We mention this because we personally know the primary bowl sources in Nepal and they are not aware of this information either.

But it is fun to speculate on the age of these instruments and try to figure out the actual age by physical marks and other clues. But in the end, nobody really knows for sure.

So if someone claims that they are certain of the age of a bowl, unless it is new one this is usually just a sales pitch. This is because there is not any ancient verifying  documentation available, nor any original information sources left, nor any other clear references from current ethno-musicological personages other than speculation, so unfortunately, really nothing for the inquiring aficionado to hang their hat on. We would all like to have specific information on a particular bowl in question but this information simply does not exist.

There is also the matter of the elemental construction of the bowl and there appears in the present much to do over the five, seven and twelve metal myths in regards to this or that element in one bowl or another, but the basic truth is that the bowls are made pretty much exactly like most other high quality metal percussion instruments i.e.; cymbals and bells, which are made of bronze which is an alloy of approximately 80% copper and 20% tin. There may be some trace metals such as silver or gold and others, but this is rarer. What needs to be noted is that it is the artisan that created the bowl and their knowledge and skills  are solely responsible for producing the best sound qualities by correctly smelting and hammering, and those are the most important factors in creating a great sounding bowl.

With all that said we have a great range of bowls for everyone, and personally hand pick about the top 1% found in Nepal for our shop. We do not order bowls from that area of the world over the phone. It is important that we hand pick them in person to get absolutely the best sound quality available.

We acquire and grade the bowls by condition and sound quality as well as rarity. And we come from three generations of professional musicians and are well versed with the bowls and we have an experienced musical ear. This is necessary to discern the subtle sonic differences between the bowls. There are not many of us out there that can accurately grade the entire sonic spectrum of Tibetan singing bowls. Maybe only five in North America and perhaps twice that for the rest of the planet only.

My perspective on the bowls is one of a professional musician, and I am perhaps the first person extant in the West who is a trained percussionist that has become deeply involved in the bowls, and importantly as well, the first that actually has access to the best of the best bowls. The bowls that people dream of and hear about, but rarely are seen.

I have personally taught music in the public school system through university levels, and also professionally played percussion on and off the road for over thirty years. I have released five CD's: "Celestial Bowls", "Goddess Bowls", "Meditation Bowls", "Mystic Bowls" and "Shaman Bowls" by Temple Sounds featuring antique Tibetan Singing Bowls. These CD's have received rave reviews nationally and internationally and I have appeared on television and radio with the bowls as well.

Currently I am working on blending Tibetan Bowls with different forms of music, to create something both different and new.

All items, text, images and sound bites on this site © Temple Sounds 2004 - 2021.

Information about the LAME encoding engine used on this site available at:

http://www.mp3dev.org/

Please remember, the quality of these samples are only as good as your pc speakers...

We highly recommend using headphones!



Grading System continued:

There are also more detailed grades in-between the three categories.

1. AA Quality: An Adept quality AA bowl will assume  stellar perfection in the bowl world as well as rarity and would include perfect visual condition, and unbelievably good sound quality. 1 in 300.

2. A+/A++ quality: The A+ bowl would sound  as great as the AA but with a barely visible mark or two. 1 in 300.

3. A/A- quality: The Adept bowl may also receive a grade of A or A-, depending on the total performance and condition.  An A bowl would be just a tiny weenie bit less in quality than the A+, hardly discernable to the ear. An A bowl would be an extremely beautiful sounding bowl to anyone, but maybe with an insignificant  mark or two. An A- bowl would have a slightly lesser sound quality than the A bowl but not by much. Truth be spoken, any Adept category bowl from AA to A- will simply amaze! 1 in 200.

4. B+ quality: A  B+ bowl would be very near the A- bowl quality but the construction would be not as fine although the sound quality would be excellent. 1 in 50.

5. B quality: The B quality bowl would be a good sounding bowl with a good construction. 1 in 20.

6. B- quality: The B- bowl would have many marks and a good sound. 1 in 10.

7. C quality: The C bowls are ordinary in sound quality and not as easy to play,  containing a much thinner sonic presence that does not in any way compare vibrationally  with the A and B level bowls, but is usually adequate for the beginner. C bowls will generally not satisfy the serious practitioner.

Recording and concert bowls come in the Adept (A) and Healer/Teacher (B) levels, but not all A and B bowls are good for recording. For recording, a certain sound, warmth, and consistency is needed to interact with the microphone correctly. If you plan to record let me know and I will help you find the right bowl or bowl set for this. I will personally hand test these bowls using state of the art microphones and digital equipment so you receive  the best sounding recording set.

Details on bowl grading procedure below:

Most bowls will perform one function better than another whether spinning or hitting. Some do both very well but this is rarer. Our grading system is as follows, we use a 6 to 10 grade for all the qualities below. Look for 9's to 10's for a great bowl. Keep in mind that sometimes a bowl does one thing well and another thing not so well. Such as a bowl with a great dominant tone but a subtle or silent harmonic note or a bowl with a magnificent hit but only an average spin.

1. C = Physical construction. Positives and negatives.

2. S = Spinning qualities.

3. H = Hit/strike. Length of dominant tone when hit once.

Our Singing Bowl Grading System

To help the customer acquire the best bowl possible I have created a grading system that will visually and sonically give the purchaser a concise and accurate description of the bowls inherent characteristics.

The first thing to understand with the bowls is that there are basically three quality levels of bowls extant. Each bowl will be located in one quality level or another or in some cases slightly in between.

The first level we call Adept (A and AA) quality and this is absolutely the best that is obtainable anywhere. These bowls will produce a magnificent sound that is magical,  warm, and unusually well balanced and consistent. The construction will be peerless. The Adept bowls were always hard to find especially in the large sizes but now they are getting nearly impossible to locate in quantity. Once in a while you will find a large one, but this is increasingly rare. Perhaps one in one hundred used to be the ratio. Now it is much less for the larger sizes. There were more small Adept  bowls out there than larger ones,  but even these are getting difficult to find.

If you are interested in an large Adept bowl let me know and  perhaps we can locate some for you. We do normally carry  several small Adept bowls at any time as they are easier to locate than the big ones. Our standards are very high here. Very few bowls meet this standard.

The second level is the Healer/Teacher (B) level bowls. This quality level is still very high befitting its Healer/Teacher status, but not quite as exalted as the Adept bowls. The sound quality ranges from very good to excellent and while many of these bowls are wonderful in sound quality, their physical and sonic presence is not as highly refined as the Adept bowls. The better quality Healer bowls are recently getting much  rarer and there is talk of these becoming almost as hard to find as the Adept bowls in the B+ versions in the coming future. These bowls are great for all around use whether in healing or concert situations, and like their name implies, they do the job with excellence.

The third level is the Novice/Student level bowls or C quality and they range from decent sounding to poor in sound quality. They produce a sound, but not the beautiful tones you will hear in the upper two levels. They are ok to get your feet wet without breaking the bank but are not recommended for serious sound practice. You will generally see them as the common singing bowl sold in stores or on the internet at bargain basement prices.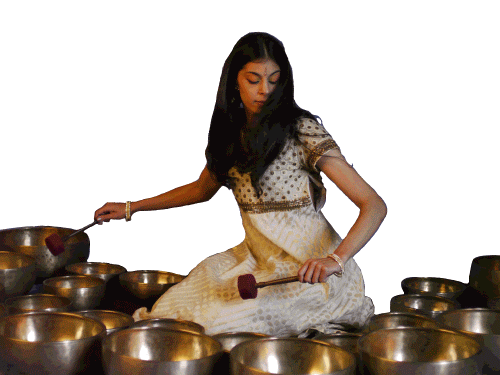 Shopping with us

Please feel confident to shop at Temple Sounds for all your Singing Bowl needs. We have been in business since 1994 and know what we are talking about. Be sure to let us know what you need and we will probably have it in stock or be able to locate it for you. We have in stock at all times more than 2,000 stellar quality bowls including over 500 very high quality antiques up to 14" . No one on the planet stocks this many as far as I know and we are totally committed to the singing bowl aficionado as we are incorrigible aficionados ourselves!

We specialize in keeping in stock some very rare types of singing bowls too, so if there is a bowl that you have a yearning for but have never been able to find, please let us know and we will do our best to locate it for you and will be also happy to send you sound files and photos of the bowl for your perusal.

We guarantee all bowl purchases to meet or exceed expectations and will give an accurate tonal and visual description of the bowls to the very best of our ability.

Restocking Fees:

There is a 20% restocking fee for all bowls and sets returned within seven days in original condition. After seven days all items are not returnable or refundable in any way. Modern made Singing bowls and any other modern made items ie.,Tingshas, Bells, Mallets, etc...will be charged a 20% restocking fee for all returns within seven days only in original brand new condition. Gongs and all Custom orders and sets are not returnable for any reason. Gong shipping rates may vary from what the standard Paypal charges are to your location. Some of the Gongs are big and heavy and will require more postage to send. Please call for exact shipping rates to your location.

Shipping and insurance charges and all Paypal & Credit Card fees are not refundable. Worn sticks and mallets returned with any marks or scratches or any other visibly used or broken items returned will be charged full price for.

Sale items are not returnable.

Regarding Sound Files...

Temple Sounds is happy to discuss personal bowl and custom sound requests and to take the time to locate the best singing bowls and sets for your individual needs whether in specific notes, 432hz, or Perfect Pitch, or anything else you can dream up (this is our speciality!)...and then create video files to send to you via e-mail so you can see and hear the exact bowls of interest before purchase.

However, because this takes much time and energy...searching though scores of bowls to get just the right ones for your needs..and then providing a cohesive video for your perusal...(usually on the same day as the request)...there is a non-refundable fee for every bowl video file in addition to the cost of the bowl.

Video charges are $35- for 1 to 3 bowls. For each additional bowl add $10- per bowl.

All bowl files are sent in 1 video at the same time.

All video fees are payable via Paypal, Check or Bank money order.

Let Temple Sounds create the perfect custom set for your needs and find that special bowl you have been looking for!

Thank you,

Temple Sounds